RESEARCH PROGRAMS:  

ONTARIO UNIVERSITIES INFO
Information regarding Ontario university programs and admission requirements can be found at each of the university's individual websites and at the Ontario Universities' Info website. Click on the image to access the site.
APPLY TO ONTARIO UNIVERSITIES
If you are planning on attending an Ontario University in 2022-2023, please view the following slides on  Applying to University. The application deadline for equal consideration is January 12th, 2023.   Research Ontario university programs on 
Apply online through the Ontario Universities Application Centre. Eligible students received their University PIN envelopes in class in late October. If you did not receive one and will have 6 4U/4M courses completed by the end of the year, please visit guidance. You can also view the how-to videos on the application process online on the OUAC website.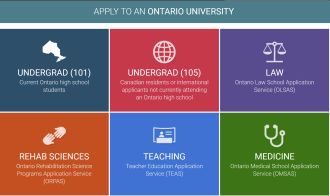 VIRTUAL PRESENTATIONS AND TOURS
Many universities are offering virtual and in-person presentations and tours this year. Information regarding presentations for WRDSB students can be found on W-O's Guidance Google Classroom. Please visit the websites of post-secondary organizations you are interested in for more information.
Representatives from many Ontario colleges and universities will be visiting W-O this fall.   For a complete schedule, click on the following link:   University College Presentations 2022 2023
To sign up for a presentation at W-O, complete this Google Form.
Sign up for W-O's Guidance Google Classroom:  W-O Class of 2023 using the classroom code ardrw5c.  Information regarding post-secondary programs is posted here regularly.